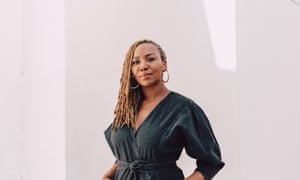 September 24, 2020
Seven years ago Tometi helped to create what is possibly the biggest protest movement in US history. She explains what the critics of BLM get wrong, how her family's story made her an activist and why she is certain the movement will succeed
Maybe Opal Tometi is not the image of a great US civil rights leader that lives in your head. For a start, she is not an austere man in a dark suit, but a 36-year-old woman in pilates gear, who laughs often and generously. She doesn't need the sonorous tones of a Southern Baptist preacher to make her point – she has social media – and with Nigerian-born parents her ancestors were not among those enslaved and transported across the Atlantic several centuries ago. Yet, as one of the three founders of Black Lives Matter, Opal Tometi has helped to reignite the civil rights movement.
BLM was formed in 2013 when Oakland-based organiser Alicia Garza felt moved to respond to the acquittal of George Zimmerman. Zimmerman had the year before shot dead an unarmed black teenager, Trayvon Martin, in Florida, and Garza posted an impassioned message on Facebook. Patrisse Cullors shared the post with the hashtag #BlackLivesMatter, and an inspired Tometi built the BlackLivesMatter.com website, choosing yellow and black as its signature colours. And with that a movement was born.
It's a movement that some analysts say is the biggest in US history. Between 15 and 26 million people participated in demonstrations following the death of George Floyd in May this year – and between then and August there were 7,750 demonstrations in all 50 states and Washington DC. Internationally, there have been protests in 60 countries and on every continent except Antarctica, with politicians from Boris Johnson to Justin Trudeau insisting that they, too, think "Black Lives Matter".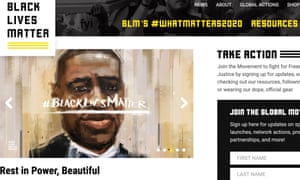 It is a result that could not have been foreseen seven years ago. Tometi says over video chat that she was trying to "remind people that they could do what we did in the past. They can get involved in community-based organisations, they can go to the streets – they can engage in actions to change the course of history."
Tometi's own path towards activism began long before, in the predominantly white Phoenix suburb where she was raised. She "gravitated towards kids of other immigrants, so my little crew really reflected the diversity of our actual world". Her best friend from first grade was from a Jordanian family. "We would have baklava and grape leaves. They had goats and chickens in the back yard … so I just grew up with this type of complexity."
However, the bookshelves of her childhood home were not lined with works by Angela Davis, Tometi says with a laugh. Nor was black liberation politics a regular topic of discussion. But, she adds, her parents were "somewhat politicised, in that they were very active in their church community and with other Nigerian immigrants". There were collections and weekend visiting rotas organised for people in need. When a widowed woman was put in an immigration detention centre then deported, her four children were taken in by another family. Despite Arizona's negative rhetoric about immigrant communities, she says: "I saw that our people were showing up for each other and pooling resources to do that."